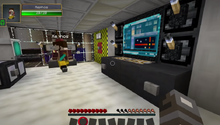 The Fumblemore Robot is a large robotic structure briefly seen in Minecraft Mods - Dimensional Doors - YogLabs after Lewis and Simon left an alternate dimension through a warp door. According to Lewis, he was made to fight the Government.
YogLabs
Characters Bort, Dr. David Grizwald Chaos, Dr. Lalnable Hector, Dr. Srivaramen, Dr. Testificate MD, Fumblemore Robot, Gosencrantz, Hammy Hammsta, Honeydew (Clone), Little Maids, Mr. Wong, OldHoneydew, OldXephos, Patient X, Prof. Brightmeer, Professor Bixby, Puffy Clouds, Sergeant Herp, Ted-209, The Adventures League, The HMS Pernus, Voskoboynikov

Community content is available under
CC-BY-SA
unless otherwise noted.