"
HighRollers Live!
" is the seventh
One-Shot campaign
for
High Rollers D&D
. It was shown live on May 28, 2017, during MCM London Comic Con May 2017.
[1]
Due to technical reasons, this episode could not be broadcasted live but a filmed recording was later aired on the
Yogscast
Twitch channel on the same day.
[2]
[3]
[4]
Kit Buss
joins this session as a special guest.
[5]
In this episode, our heroes attend a masquerade ball happening in Waterdeep. But they are not there for entertainment, but to reclaim a powerful demonic artifact and solve a few mysteries before the day is done.
Backstory
Edit
"Dungeon Master Mark "Sherlock" Hulmes...will guide the players as they journey to the Forgotten Realms, the official campaign setting of Dungeons & Dragons, where our adventurers will be sent to a masquerade ball being held by a powerful noble figure in the dazzling city of Waterdeep. But they are not there to eat canapes and drink cocktails, they are tasked to reclaim a powerful demonic artifact and solve a few mysteries before the day is done.

[1]

"
Characters
Edit
Dungeon Master - (Mark Hulmes)
Edit
Mark Hulmes is the dungeon master for this once-off campaign.
The Adventurers
Edit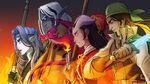 Chris Trott, Katie Morrison, Kim Richards and Matthew Toffolo reprise their roles as lightborn cleric Cam, elf druid Elora, tiefling monk Jiǔtóu and drow warlock Trellimar respectively. Together with Granamyr, they are collectively known as the adventurers.
Errol "Colt" Coltsfoot is a male human swashbuckling rogue-fighter roleplayed by Kit Buss. He is also a part chef and has military background.
Campaign Summary
Edit
Preparation
Edit
The Amulet
Edit
The Confrontation
Edit
Featured Characters
Edit
Appeared
Fick Estate

Camilia, Lord Fick's wife
Mr. Goodwill, butler
Winston Archival Fick[spelling?], lord of the estate
Animated armours, as Lord Fick's guards
Animated skeletons, as entertainers

Guests

Dominique[spelling?], distant cousin to Fellania
Drizzt Do'Urden, famed adventurer of the Forgotten Realms and Trellimar's past acquaintance
Fargrim Blackhand[spelling?], owner of the Black Wyrm
Unnamed lord of Waterdeep. It's however heavily implied that he is Omin Dran, the CEO and founder of Acquisitions Incorporated.

Harpers
Returning
Edit
Mentioned
Notable Moments
Edit
First!: This session marks the first time a High Rollers D&D session is played in front of a live audience.
References
Edit
↑ 1.0 1.1 HighRollers Live! – Dungeons & Dream Live Show, MCM London Comic Con 2017
Community content is available under
CC-BY-SA
unless otherwise noted.