"HighRollers Live!" is the eighth One-Shot campaign for High Rollers D&D. It was shown live on October 29, 2017, during MCM London Comic Con October 2017. Due to technical reasons, this episode could not be broadcasted live but a filmed recording was later aired on the Yogscast Twitch channel on the same day.
In this episode, our heroes are kidnapped and are tasked to act for a film or get killed.
Backstory
Edit
Characters
Edit
Dungeon Master - (Mark Hulmes)
Edit
Mark Hulmes is the dungeon master for this one-shot campaign.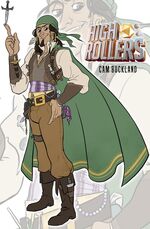 Cam is a lightborn cleric, known for being a bit of a trickster. He was found as a baby and raised by a group of travelling gypsy entertainers called the Bucklands. He is well travelled and has developed a charming charisma, but is also somewhat devious at times. Cam has now decided to leave the Bucklands to go on a journey on his own.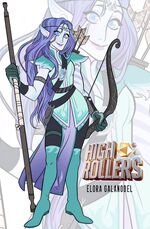 Elf druid Elora is a very friendly though rather naive character. She is descended from royalty, her father being the leader of one of the great elven spires. Despite this she is not the least bit noble, instead being very casual and chilled. Elora wants to become a hero, praised for helping rebuild the world as others have before her following the Lightfall.
"Kim Richards...plays K'ehleyr Ragehorn the Half-Orc Barbarian. But don't let the fact that K'ehleyr tries to charm the pants off everyone or feast on whole hog roasts fool you. Inside her proud heart lies a passion for discovering ancient relics and the secrets of forgotten kingdoms.

[1]

"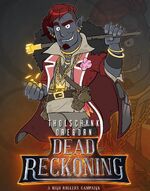 TBA
Campaign Summary
Edit
Where Are We?
Edit
The Director
Edit
Battle Scene
Edit
Romance Scene
Edit
Featured Characters
Edit
Main Characters
Edit
Returning
Edit
Notable Moments
Edit
References
Edit
↑ HighRollers: Uncharted Territory, Dungeons & Dragons
Community content is available under
CC-BY-SA
unless otherwise noted.