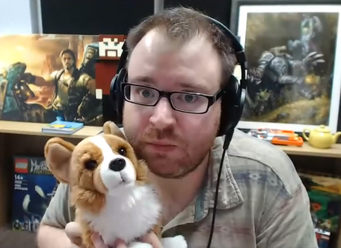 Mandrew
 is the name of a number of 
Simon's
 pet dogs, both virtual and "real".
In-Yogiverse
Edit
Mandrew was the name that Simon gave to his wolf in the game WolfQuest. Although the game states that he is a Grey Wolf, Simon is convinced that he is a Corgi. 
Mandrew first appeared when, in early 2013, Simon received a broken battery operated toy corgi from a fan. 
Mandrew eventually settled down and had 4 puppies - of which one survived, unfortunately. Despite this, he lives happily ever after, we think.
Outside of WolfQuest, Simon has used the name "Mandrew" as the name of his real-life pet "dog". Mandrew first appeared when Dodger and Jesse Cox came to the UK and visited the Yogscast to do a BioShock Infinite unboxing. This version of Mandrew took the form of a small stuffed animal Corgi.
When Kim moved to the YogTowers, she was assigned a new role within the company, to be Simon's "dream Corgi". To do so, Simon dressed her in a Corgi costume and called her "Mandrew".

♪ Brand New Friend (Christmas Song!)

Kim appeared as Mandrew again, during the 2013 and 2015 Christmas Livestreams.
Mandrew appeared in a christmas song that came out in 2016 called ♪ Brand New Friend (Christmas Song!)
During So This Is Yogscast by Kim, she references Simon's love for Mandrew, and throughout later parts of the song, Simon supplies backing vocals, singing about his love of Mandrew.
Unfortunately, during the Trials Fusion Challenge, Lewis had disemboweled Simon's favourite toy Mandrew in order to create the perfect rider. Simon appears to be quite pleased with the design that Lewis made.
The name Mandrew was also used to name the Dalmatian puppy in the feature play of WazHack.
Community content is available under
CC-BY-SA
unless otherwise noted.