Jurassic World: Dominion Dominates Fandom Wikis - The Loop
Play Sound
Rail Bros Inc. is a company started by Strippin and Benjizm whose main objectives are the incredible uses of Minecarts and Railcraft.
In-Yogiverse
[
]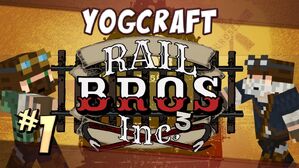 The company was first seen in Duncan's Tekkit series, where they showed Duncan what RailCraft is all about and the uses for it. They also tricked Duncan into using a rail they booby-trapped with TNT that almost killed him.
The duo then split when Benjizm went missing after Sjin and Duncan Jones destroyed the last Tekkit server. Strippin turned up after blasting out of Duncan's mountain. He then went on to building a house and the Strippin Station.
Later, Strippin went looking for Benjizm and, after months of searching, he found Benjizm frolicking with his squid family which Strippin proceeded to kill. Benjizm then told Strippin that he has forgotten the ways of the rails after getting hit by the blast from the nuclear reactor explosion. Strippin then decides to help Benjizm remember rail-craft and start the company again.
To do so, Strippin and Benjizm go hunting for resources, expand and refurbish The Abode, built a Coke Oven, and took a trip to the nether to gather more resources. They then built a Blast Furnace and renovated The Abode with marble walls and floors while adding a staircase to the area above The Abode where their Coke and Blast Ovens are. In Rail Bros Inc Tekkit - Episode 11 - My First Choo Choo, Benji and Strippin finish their first rail system.
Following the update to YogCraft, the pair somehow lost the Abode but found a Desert Village to which they violently slaughtered sixteen women and children and the Elder and used that as their new base. They set up their earlier contraption before making a video on it. Benji's room is decorated pink and has a gauntlet of minecarts. In the latest Tekkit videos, it appears that Strippin and Benjizm are taking influence from the Batman series, and have created a RailCave, which is located underneath a well they had from the village they indoctrinated. Apparently it was intended to be used for an emergency in the event that Rythian decided to attack them. It was also where they intended to keep the majority of their technology. However, an attack by Rythian never occurred.
Episode Guide
[
]
Rail Bros Inc - Tekkit
Video Name
Rail Bros Inc - #1 - Reunited
Watch
Rail Bros Inc - #2 - Mister Jones
Watch
Rail Bros Inc - #3 - Shaquille O`Neal Get Real
Watch
Rail Bros Inc - #4 - Mining for Rails
Watch
Rail Bros Inc - #5 - Rocket Oven Renovation
Watch
Rail Bros Inc - #6 - Make Rails Not War
Watch
Rail Bros Inc - #7 - A Fools Errand.
Watch
Rail Bros Inc - #8 - Nether Nether Land
Watch
Rail Bros Inc - #9 - Crowbar Conquest
Watch
Rail Bros Inc - #10 - Back in Business.
Watch
Rail Bros Inc - Yogcraft
Video Name
Rail Bros Inc - #11 - My First Choo Choo
Watch
Rail Bros Inc - #12 - Return of the Rail!
Watch
Rail Bros Inc - #14 - Our first baby
Watch
Rail Bros Inc - #13 - Pimp my Cart!
Watch
Rail Bros Inc - #15 - The Climb of the Penguins
Watch
Rail Bros Inc - #16 - InTheBiggestWood
Watch