System;Start is the introductory song featured on Area 11's All The Lights in the Sky album. The song features Sparkles*, Martyn, Strippin, Kaeyi Dream, and Cassandra.
There is a small melody with System;Start, Vectors and Euphemia. By the end of System;Start (around the last 5 seconds) a drum beat starts, the same one that starts Vectors. Vectors ends with a long instrumental run, that follows a smooth transition to Euphemia.
Kaeyi
Are we ready to begin
Sparkles*
Almost I need to calibrate.
Okay, calibrated.
Kaeyi 
Subject is responding normally.
Sparkles*
Okay let's begin.
Martyn 
Machine start.
Sam 
Initiating signal, over.
Sparkles*
Signal is stable.
Kaeyi
Subject is ready.

Martyn 
Machine is up to speed within normal parameters.
Sam 
Subject is awake. Vitals are good.
Sparkles*
Cassandra can you hear me?
Cassandra
Yes.
Sparkles*
Are you ready to begin?
Cassandra
Yes. I'm ready.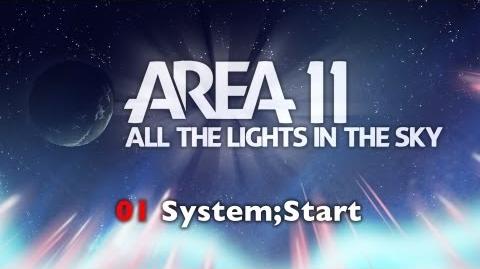 System;Start features Martyn and Strippin, who are also Yogscast members. It also features Kaeyi Dream, who is a friend of Area 11.
The song is based on the anime Neon Genesis Evangelion.
It was the last song that Sparkles* made for the album.
Strippin was originally not in the song, but he was in the office with Kaeyi Dream, Martyn, and Beckii Cruel while they were recording it, and Sparkles* didn't want him to feel left out.
Community content is available under
CC-BY-SA
unless otherwise noted.