YOLO Minecraft was a modded Minecraft Ultra Hardcore series by Duncan and Kim. Their goal was to kill the ender dragon together. However, should either one die, the series ends.[1]
YOLO Minecraft is a filler series between Flux Buddies Season 3 and Season 4. The series is also inspired by viewers of Kim's perspective of One Life who wondered how long Duncan can survive in Minecraft Ultra Hardcore.[2]
The modpack used in the series is Feed the Beast Lite.
Taking Damage
Edit
Throughout the series, Duncan is more prone in taking damage. Kim is more careful due to her experience gained in One Life, a Minecraft Ultra Hardcore series, but still takes damage from time to time.
Both Duncan and Kim agree to do a forfeit should either one of them ends up dead first. On what forfeit will it be, the two let the viewers decide by sending in suggestions. As of Episode 17, the forfeit has yet to be decided.
Kim's art co-ordinator and moderator for her sub-Reddit, Aeverelle, has been keeping track of the damage taken by Duncan and Kim throughout the series.[3]
Spoiler Alert! Click Expand to view Damage Counter. Do note that, due to the style of editing, not all damages will be noted.
Damage Counter
Episode
Damage Taken (HP)
Notes
Duncan
Kim
1
9
0
Duncan fell into sludge pool, becoming withered.[4]
4
4
0
Creeper explosion, then Duncan fell down the mine opening.[5][6]
7
3
0
Duncan got shot by skeleton while protecting Kim.[7]
8
4
0
Duncan fell from first floor of house. Twice.[8][9]
9
9
0
Duncan got attacked by blizz. Also by baby zombie due to Kim's improper mine opening blockade.[10][11]
10
2
0
Unknown circumstances behind Duncan losing 2 HP, but possibly due to falling off the first level.[12][13]
14
0
4
Kim fell into a hole. She also took some damage in the nether.[14][15]
18
3
0
Duncan got shot by skeleton, then suffered a hard-landing.[16][17]
20
7
2
Duncan got shot by blazes.[18] Kim was briefly suffocated by improper block placement.[19]
22
7
0
Duncan landed improperly with his jetpack, then got attacked by spiders and skeletons.[20][21][22]
23
1
7
Kim got attacked by a witch, then walked off a ledge. She flies back to the same ledge and engaged with a skeleton, but had to retreat.[23][24] Meanwhile, Duncan got shot by a skeleton while engaging it.[25]
24
17
0
Duncan got attacked by a skeleton wielding a sword, then by a horde zombies.[26][27]
26
32
4+
Throughout the episode, Duncan and Kim took damage from fighting endermen, skeletons and zombies.[28][29][30] Kim took some damage from unknown circumstances.[31] Duncan also took damage from improper landing.[32]
27
27
13
Throughout the episode, Duncan and Kim took damage from fighting endermen, skeletons, spiders and zombies.[33][34][35][36] After finding a stronghold, Kim and Duncan took damage from creepers, silverfishes and skeletons.[37][38][39] Duncan also took damage from improper landing, twice.[34][40]
28
24
16
Both took damage from the ender dragon.[41][42] They then battle it out and Kim kills Duncan.[43]
Total
149
or 7.5 lives
46+
or 2.3+ lives
Episode Guide
Edit
YOLO Minecraft
Video Name
YOLO Minecraft #1 - DO NOT DIE!
Watch
YOLO Minecraft #2 - BUDDIES` RETREAT
Watch
YOLO Minecraft #3 - COAL WANTED
Watch
YOLO Minecraft #4 - STRESSY BESSY
Watch
YOLO Minecraft #5 - GOLD FRIEND
Watch
YOLO Minecraft #6 - HOUSE PROGRESS
Watch
YOLO Minecraft #7 - ZOMBIE HOUSE
Watch
YOLO Minecraft #8 - REGRETS
Watch
YOLO Minecraft #9 - HORROR IN THE MINES
Watch
YOLO Minecraft #10 - DOUBLE GHAST
Watch
YOLO Minecraft #11 - HAVING A BABY
Watch
YOLO Minecraft #12 - JETPACK
Watch
YOLO Minecraft #13 - NEEDING SPECIAL BOOTS
Watch
YOLO Minecraft #14 - KILLY McKILLFACE
Watch
YOLO Minecraft #15 - OUR VEGAS WEDDING
Watch
YOLO Minecraft #16 - ALEXA
Watch
YOLO Minecraft #17 - IS WRESTLING FAKE?
Watch
YOLO Minecraft #18 - DANGEROUS DIAMONDS
Watch
YOLO Minecraft #19 - NETHER FORTRESS
Watch
YOLO Minecraft #20 - SHED TALK
Watch
YOLO Minecraft #21 - MAGICAL POTIONS
Watch
YOLO Minecraft #22 - LEAVING LAS VEGAS
Watch
YOLO Minecraft #23 - CONSPIRACY THEORIES
Watch
YOLO Minecraft #24 - BRITISH BROTHEL
Watch
YOLO Minecraft #25 - REAL COWBOYS
Watch
YOLO Minecraft #26 - FOLLOWING THE EYES
Watch
YOLO Minecraft #27 - THE STRONGHOLD
Watch
YOLO Minecraft #28 - THE END (Finale)
Watch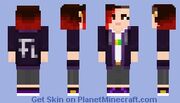 Kim first uses her new Minecraft skin (designed by MysticJhn) in the video "IS WRESTLING FAKE? (1x17)". However, it is not the first uploaded video under her new skin; the video is "Pro-Tip Don't Get Killed (5x01)", UHShe Season 5.[47]
As a running gag, the editor adds an overlay of glass shattering upon Kim's singing.[48]
References
Edit