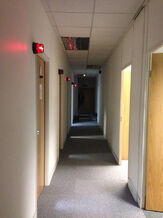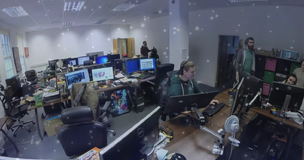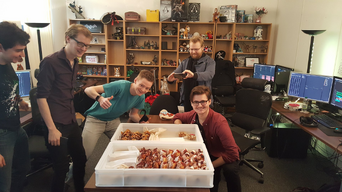 YogTowers was the main offices of the Yogscast from 2012 to 2017, was located in New Bond House in the city of Bristol in South West England. The office was featured in many videos and streams since it was first established in 2012, most notably during the 'Office Cam' livestreams during the 2016 Jingle Jam. In 2017, New Bond House was planned to be converted into flats. Because of this, the Yogscast moved out and shifted their office to YogStudios in June 2017.
YogTowers was apparently very cold, as Hannah mentions numerous times in Hannah's Advent Calendar videos.
Until 2012, YogTowers didn't exist. However, Simon and Lewis referred to it in their podcasts and videos, pretending that they worked in a huge tower where they made their videos. Until 2011, none of the Yogscast lived or worked together, but in 2011 Simon, Lewis, and Hannah got a house in Reading together which they shared.
In Strippin Says! Robbers and my Balls, Strippin revealed that a few days prior to the making of that video, the office building that YogTowers is situated in was robbed. He was working inside at the time, and believed the intruders to be ghosts.
The name, "YogTowers", was first conceived by Simon in part 1 of his and Lewis's walkthrough of the Fishing dailies in World of Warcraft.
In early 2016, the Yogscast rearranged the YogTowers office space, and many personal offices were moved into an open office-style layout[1] with separate areas for storage, content creators, editors, and a common room and kitchen. Lewis and Simon no longer had their own offices and shared the open-office area.
The YogTowers open-office area was widely shown off during the Jingle Jam 2016 Livestreams as 'Office Cam'.
References
Edit
Community content is available under
CC-BY-SA
unless otherwise noted.