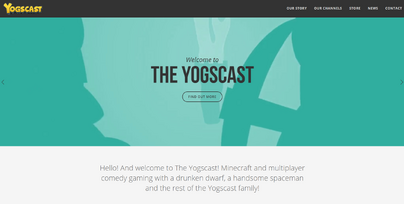 Yogscast.com is the Yogscast main website hosted on http://www.yogscast.com. It provides links to the Yogscast Store, channels, social media and a brief history on the Yogscast.
The website was originally created on August 30, 2010. It was created by Pat "Peva" Woodward. He created the website by himself because he was "upset that the Yogscast didn't have a community site". The site wasn't made the official Yogscast Community site until around February 2, where Peva soon after became the Yogscast Community Manager. The Website had then expanded to include Forums, Merchandise Shop, Livestream capabilities, and an ill fated YogChan, all of which was created by Peva with the help of other admins (namely Dyneslott, Tinman and MintyMinute) as well as members of the community.
In November 2012, the website was starting to crumble, displaying errors caused by PHP and an expired security certificate. The launch of the new Beta website fixed these issues.
From late 2012 to July 2016 the Yogscast used the Maker Studios format for its website. It was connected to Maker.TV and allowed better video discovery capabilities, including search and playlists.
After the Yogscast left Maker Studios in early 2016 the website needed to be redesigned to remove the Maker Studios format. On July 25, 2016, the new website, designed using Squarespace, was released. The new site removed the ability to watch videos on it and instead linked to each content creator YouTube channel and provides social media links, store links, a brief history of the Yogscast and an updated FAQ.
The Yogiverse forums were initially moved in February 20, 2011 from the main website to a separate website dedicated completely towards the forum. These new forums had new features and a generally better appearance and improved performance.
A third iteration of the Forums appeared later, where the majority of pages used Drupal - Opensource CMS instead of vBulletin.
On February 5, 2015, it was announced that the forums would be closing down due to technical reasons. It was also said that they would look for an alternative, and that an alternative was the Yogscast subreddit.
Community content is available under
CC-BY-SA
unless otherwise noted.