This page lists the upper access level staff of the Yogscast Wiki. The purpose of this article is to provide a list of members on this site in which users may inquire and provide suggestions to regarding specific areas of concern.
To be a part of the Wiki Staff, please visit the Rights Requests page.
SyzygyΣE
The founder of the Wiki Staff Team and a current Bureaucrat, SyzygySoldier discovered the Yogscast in late 2011 before creating an account on the wiki in July of 2012. Contact him via his message wall if you require any assistance with editing, user rights management, site layout or have suggestions, feedback and criticism about the wiki to address.

Shuffler
Hello there Yognau(gh)ts! I'm Shuffler, a Bureaucrat on this Wiki. Through the powers of Helperbot, I manage episode guides as well as update facts regarding series I watch. Message me if you ever need any help.

Orange
Hi there, I'm Orange, an Administrator on this wiki. I usually sort out red links or broken redirects, and delete unneeded pages and files. Message me if you ever need help, and I'll respond as quickly as I can. Good day!
Tower
Hi, I'm Tower, an Admin on the wiki. I manage miscellaneous jobs, for now missing templates or episodes that I manage to spot. I typically watch Youtube or play games in my spare time.

Conor
Hi! I'm ZakaSonza, and I'm a Rollbacker for this wiki! Apart from being a full-time Yognau(gh)t, I am a Software Developer. I love programming and usually spend my free time working on games and websites.
How To Contact Us
You can contact any member of active staff by clicking their green circled speech bubble above. Alternatively, please get in touch with us via Direct Message on Twitter @Yogscast_Wiki. We will get back to you as soon as possible.
Retired Members
Retired members are members of the Wiki Staff Team who no longer edit on the wiki and/or no longer wish/are unable to fulfill their role on the team and are therefore classed as "Retired" users. These users don't count towards the user amount limit in their group.
Yogscast Affiliated Members
These members are either part of the Yogscast family or have participated directly as a moderator or an associate of the Yogscast. Verified members are automatically granted Chat Moderator privileges.
History of the Wiki Staff Team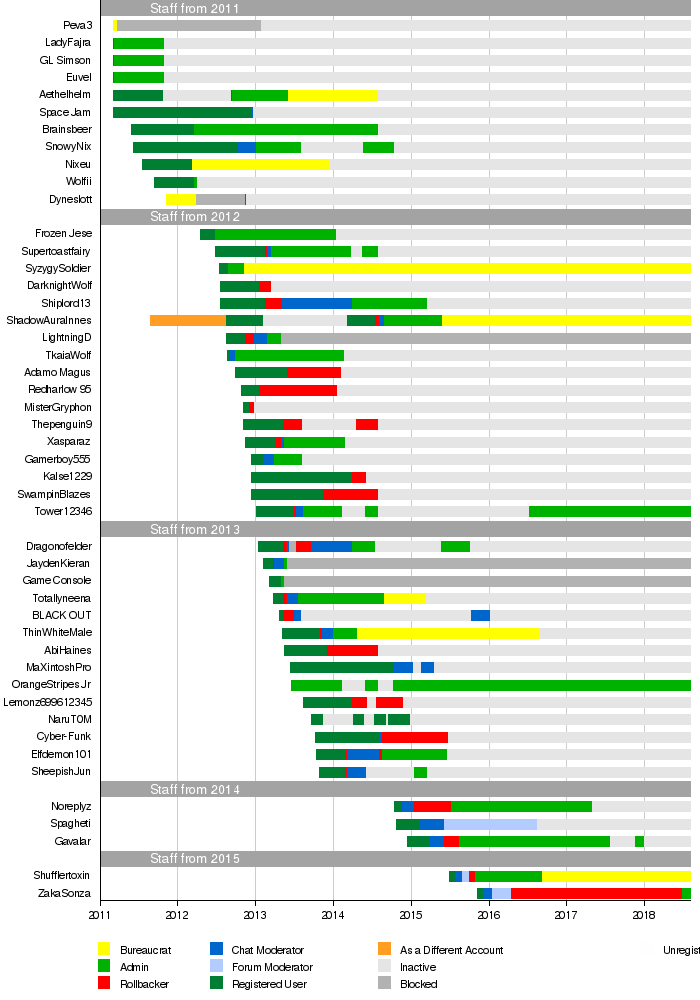 Joining the Wiki Staff Team
In order to be promoted to a Chat Moderator, a history of zero violation of the Wiki Policy and Chat Policy is required. Frequent edits and activity are also necessary to provide the contributions and responsibility of a staff member to the Wiki. Yogscast members or users associated with the Yogscast don't count towards the user amount limit in their group.
Please note that we have a limit for the maximum amount of Administrators and Bureaucrats as listed below:
Applications for Wiki Staff must be posted on the Rights Requests page.
Who To Contact
Community content is available under
CC-BY-SA
unless otherwise noted.